So with the wedding season fast approaching, our customers want to know the event design trends for this coming year. Here are our favourites…
Ushering Dark Glam:
Move over white, there's some new tones in town. White has always been synonymous with the word wedding no doubt, but what's wrong with plum, emerald green, and navy blue?  Collaborating with more daring and unexpected colors, shows a sense of confidence in your design. When incorporated using rich textures, such as velvet and silk crepe de chine, these colours can enhance an event to resonate the very essence of "Glam".  Paired with metallics and shiny acrylics, these hues can turn an expected wedding into startling vogue.
Metal Montage:
In the coming year, Mixology doesn't only have to occur behind the bar.  A good event designer can incorporate different types of metal finishes without your decor looking too eclectic. Brass can be used with gold, while copper is enmeshed with silver. If done right, no one will even notice the paradox in design.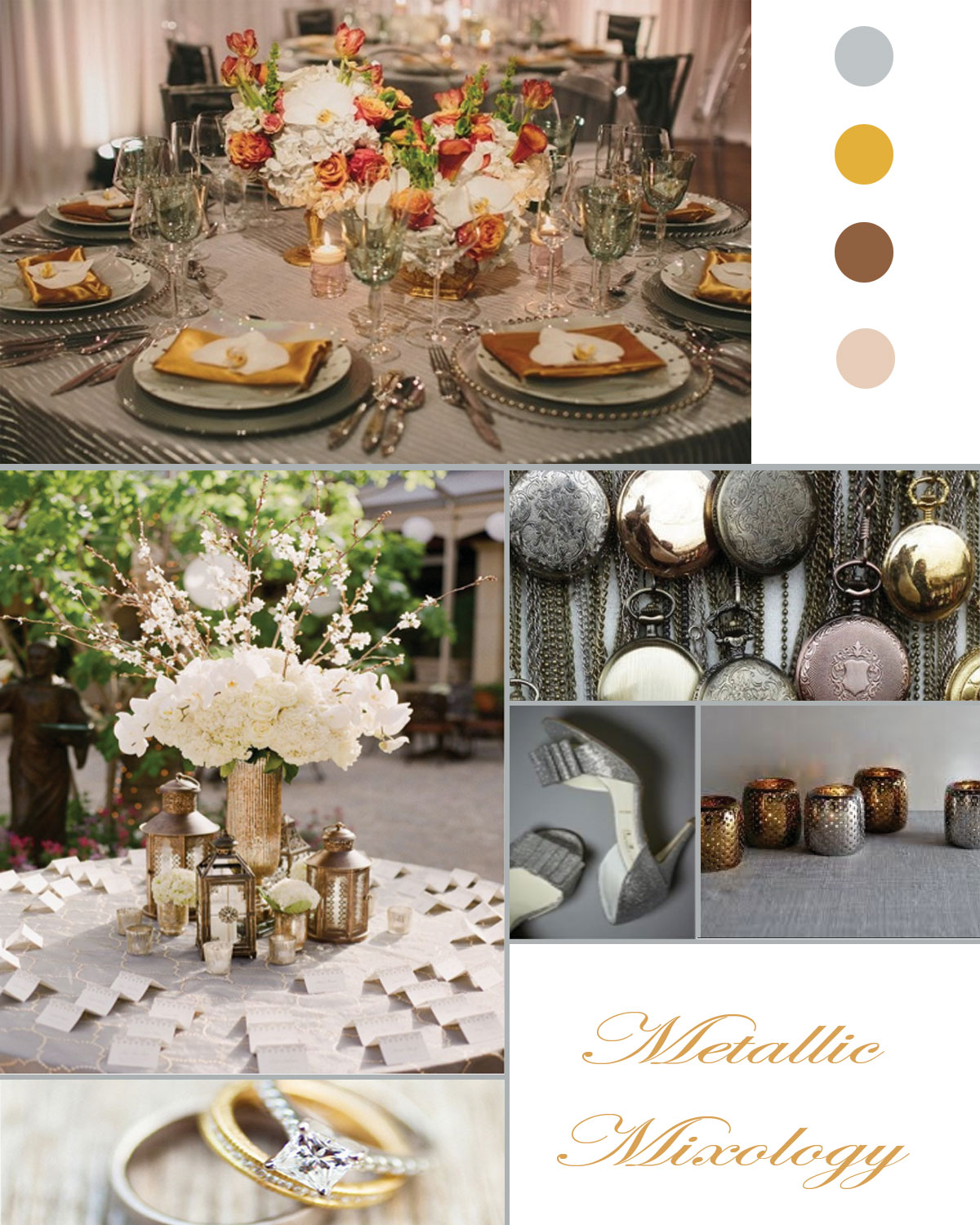 Blossoming Prints:
There's something really enchanting about organic textures such as dogwood, or birch being used as part of your décor elements. Diya Décor has been asked time and again to "bring the outside in".  Simply, using blossoming prints in your décor design can produce this trend in 2014. Fabrics and accessorial pieces emanating blooming branches, leaf motifs, and full feathers in conjunction with natural textures is a Diya Décor design trend favorite.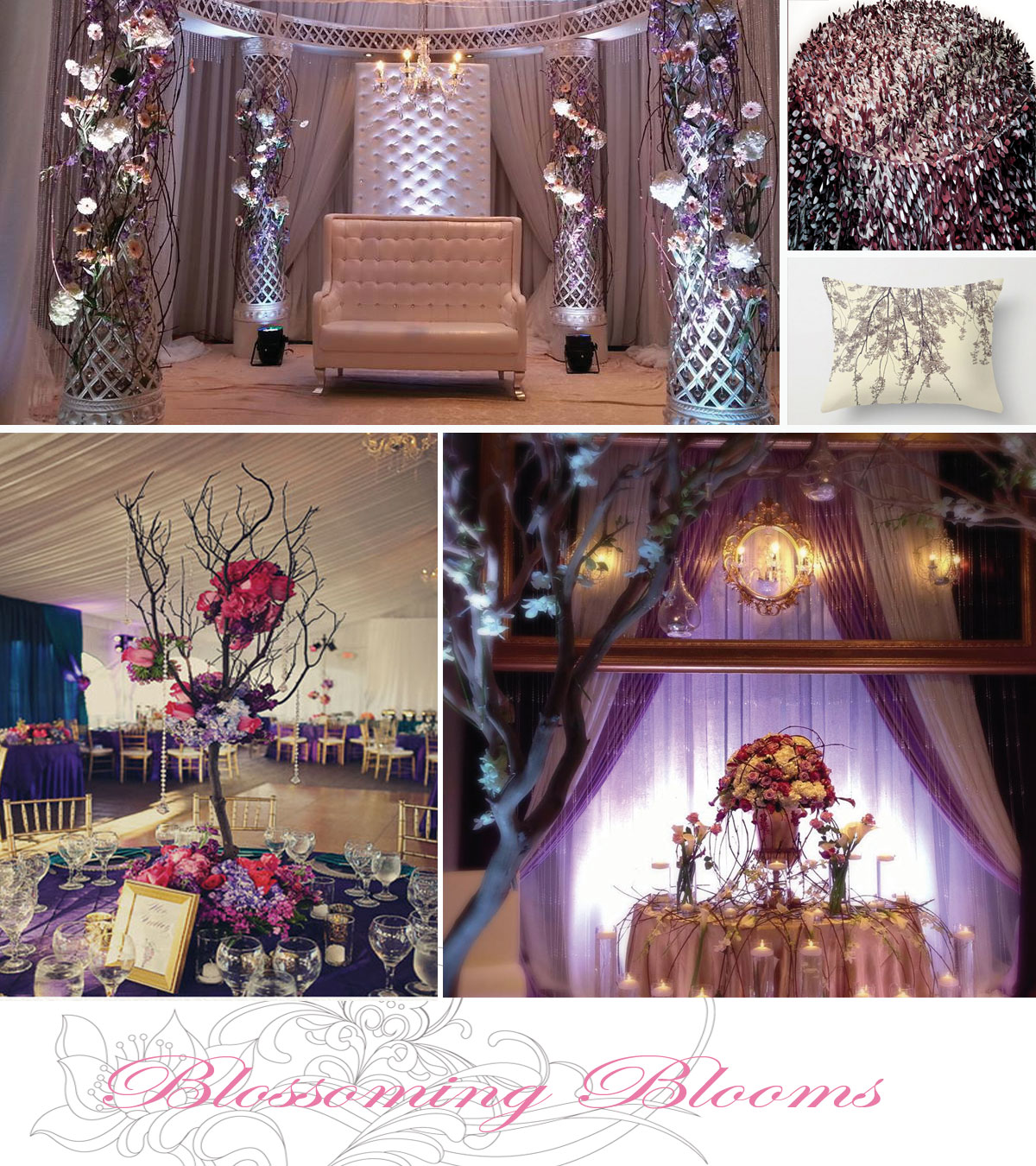 Crazy for Navy!
One of my ultimate "crazy for you" hues is Navy! It's timeless in my opinion. Classic in its feel, and very sophisticated.  It isn't what chocolate brown was many years ago; it's different. Navy has been a serving as a neutral base for many years; paired with red, green, blues, or greys, it's versatility is more considerate.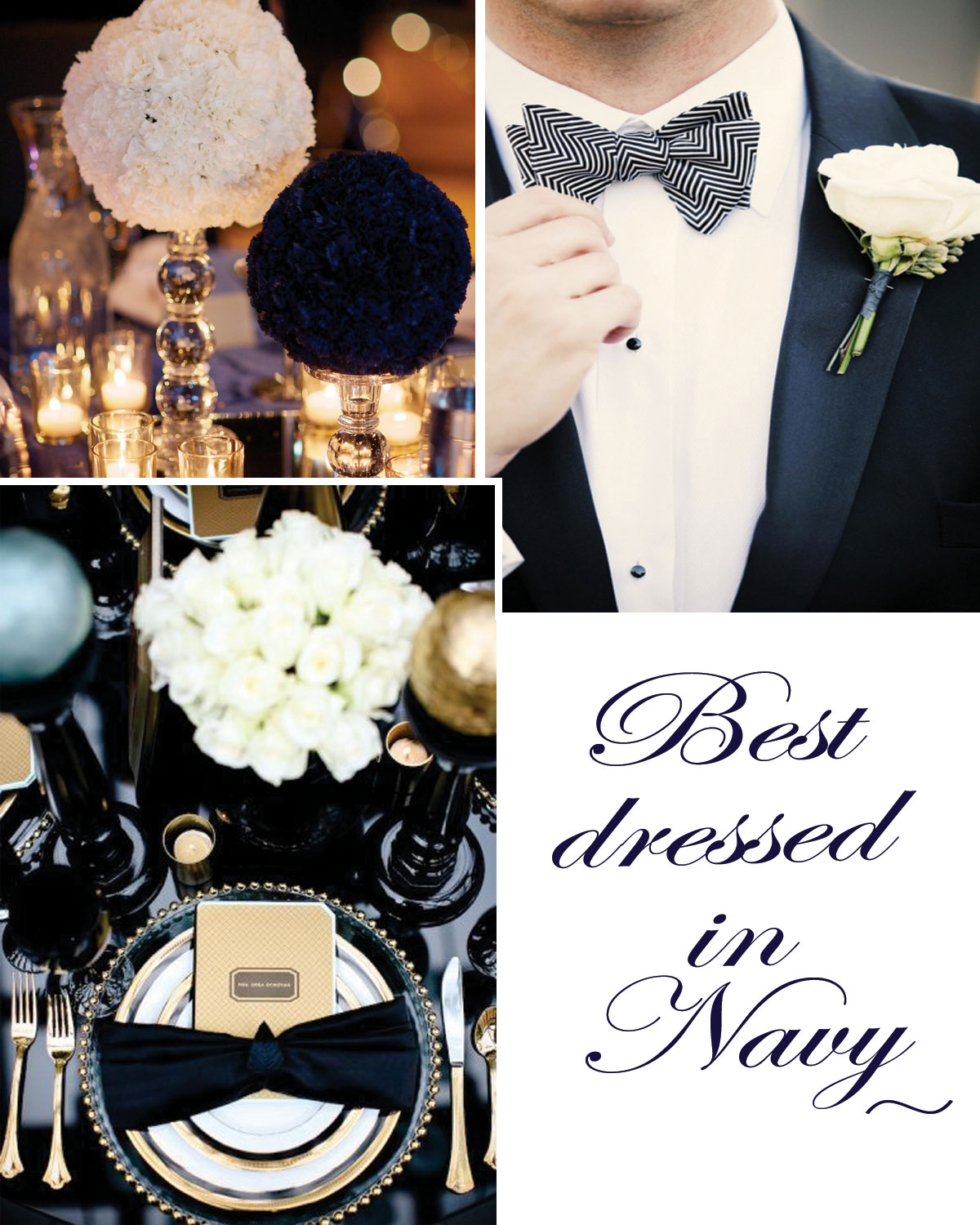 Unassuming Combinations:
What isn't formulaic in its process, is appreciated in design this year.  It's "expected" to use wood with burlap, and metals with crystals, so it isn't so trendy. What is appreciated is the idiosyncrasy of the design. Pairing water décor elements with silk Banyan trees and  stone walls is unexpected, and that's what makes the event so personal in its feel and true to custom design.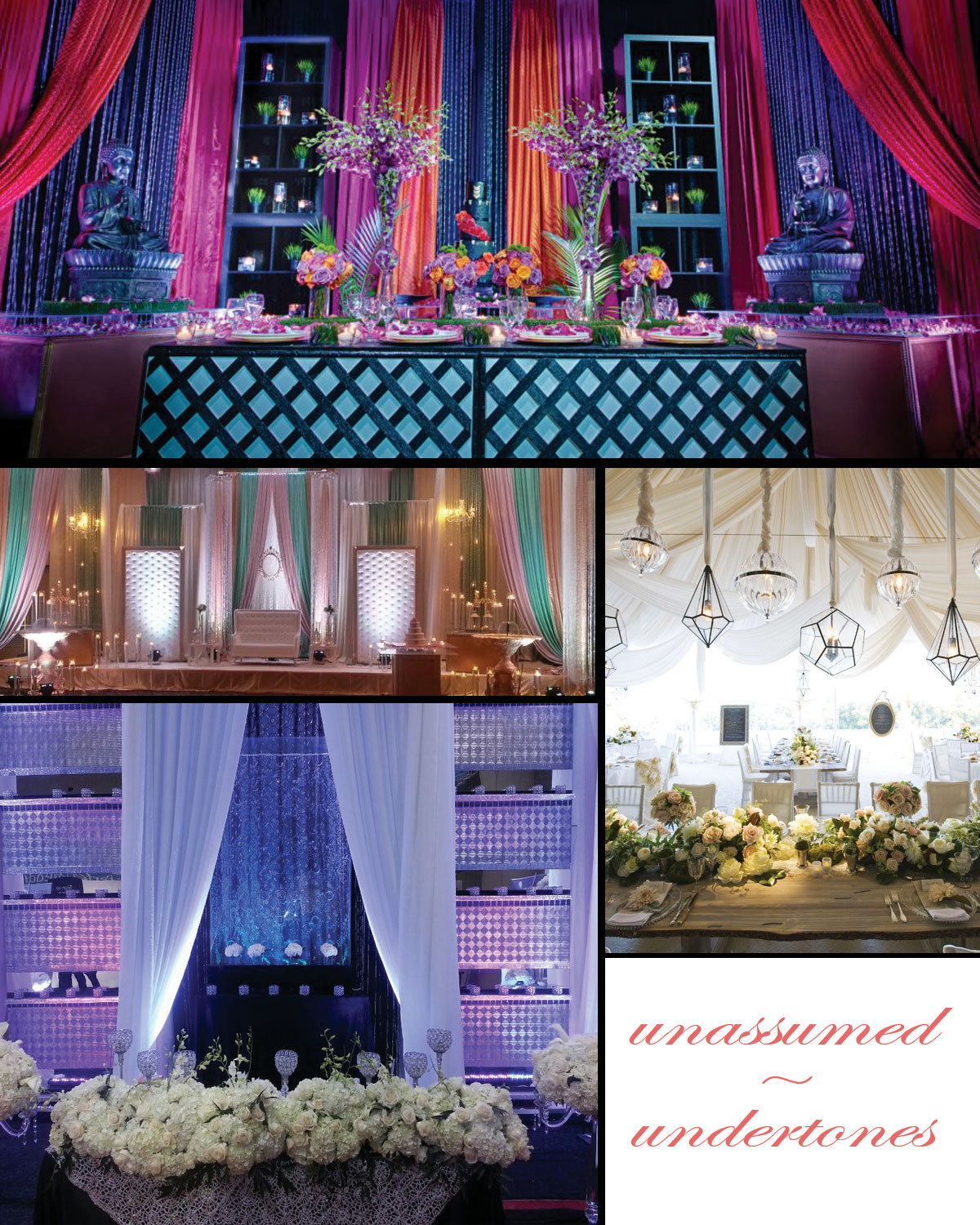 Go Big and Go Blue!
If your favourite colour is blue, it's your year. An event design basked in hues of blue are just so enormous in 2014. Homogenous or with contrast, whatever blues you use, will be a big hit. Indigo with periwinkle, sky with cornflower, all blues are beautiful. Incorporated in your design and event backdrop would be perfectly acceptable.  Blues are perfect for all seasons this year!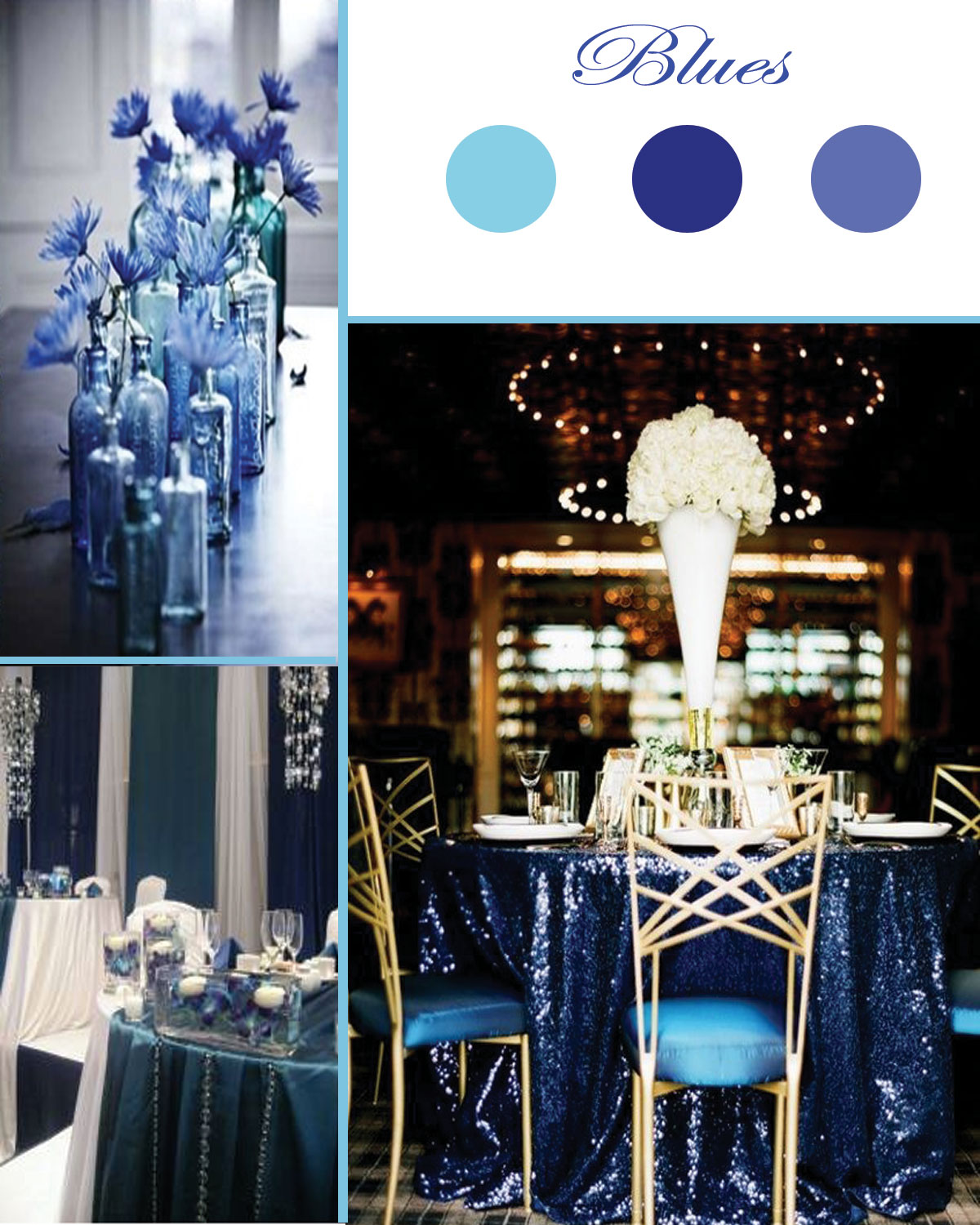 Black and White, Keep it Soft Not Sexy!
Black and white on stage doesn't have to scream Bride of Frankenstein. Black and white can mesh so seamlessly like yin and yang. By using softer fabrics such as sheer and chiffon, these two colours can come together and feel serene and calming and timeless; almost like a sleek black dress pant and white (stripe on stripe) tailored shirt. By adding textures of crystals in either colour can add a flash of luxury without all the gaudinesss. Black and white has always been an understated style but can have a huge impact.